BACK
THE GRADUATES OF 23- LIVE ACT
Am 11. Februar 2023 haben 23 Designer:innen des Studiengangs BA Mode-Design am Institut Zeitgemässe Design-Praxis (ICDP) ihre Abschluss-Arbeiten inszeniert und performt. Nach sieben Semestern an der Hochschule für Gestaltung und Kunst Basel FHNW präsentierten sie ihre Projekte und ihre gestalterischen Visionen in einem Fashion Live Act. Es ist das Finale einer intensiven Studienzeit und setzt gleichzeitig den Start in die Zukunft.
On February 11, 23 designers from the BA Fashion Design program at the Institute of Contemporary Design Practice (ICDP) did stage and perform their final projects. After seven semesters at the Hochschule für Gestaltung und Kunst Basel FHNW, they presented their projects and their design visions in a Fashion Live Act. It is the finale of an intensive period of study and at the same time sets the start for the future.

Doing Fashion ist eine Kultur und Mode-Design ist eine kulturelle Praxis. Wie koordinieren wir ästhetische und zirkuläre Methoden und Abläufe, wenn wir Mode machen? Und wie begegnen wir Forderungen nach Diversität und Verantwortung im Kontext postkolonialer Diskurse - und markieren zugleich unseren kritischen Standpunkt?
Mode-Design spiegelt die ästhetische Vielfalt möglicher Körpergestaltungen.
Doing Fashion is a culture and fashion design is a cultural practice. How do we coordinate aesthetic and circular methods and processes when we make fashion? And how do we counter demands for diversity and responsibility in the context of postcolonial discourses - while marking our critical standpoint?
Fashion design reflects the aesthetic diversity of possible body designs. The 23 graduate students engage with other bodies of fashion amid debates that rebalance the confrontation of human and machine. How does the body of fashion move in the metaverse?
Die 23 Graduates beschäftigen sich mit anderen Körpern der Mode inmitten von Debatten, die die Konfrontation von Mensch und Maschine neu austarieren.
Wie bewegt sich der Körper der Mode im Metaverse?
Die Zeiten fordern uns heraus und verlangen uns viel ab - das war und ist nicht immer einfach. Um so wichtiger finden wir, sich die Freude an der Mode, der Kunst und der Kultur und ihrer Gestaltung nicht nehmen zu lassen: Setzen wir gemeinsam ein Zeichen!
Im Namen des Studiengangs, Jörg Wiesel
The times challenge us and demand a lot of us - it wasn't and isn't always easy. That's why we think it's all the more important not to let ourselves be deprived of the joy of fashion, art and culture and their design: Let's make a statement together!
On behalf of the study program, Jörg Wiesel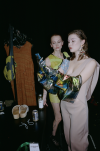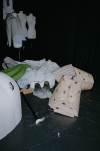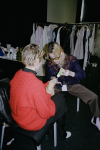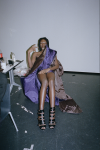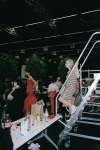 LIVE ACT CREDITS
Choreography & Art Direction: Nils Amadeus Lange
Production: Rabea Grand
Live Act Direction: Fiona Rahn
Head of Degree Programme BA Fashion Design, Lead Graduate Project: Jörg Wiesel
Aesthetic Consulting Live Act: Priska Morger
Technical Director: Suresh Surenthiran
Technical Producer: Marco Mastrogiacomo
Audio Ingenieur: Lovis Dalla Libera
Media Ingenieur: Katharina Kemmerling
Broadcast Ingenieur: Toni Grimolizzi
Light Design: GLP, Stefan Wagner
Lighting Ingenieur: Mario Gehlmann
Digital Infrastructure: Christina Felle
Construction & Design Production: Odin Steinhauser, Tobin Meyers
Intercom Service: Riedel Communications Switzerland - Erwin Engel
Music: Dillon, soungou
Dillon dressed by EMMBER
soungou dressed by Gioch-P. Treskatsch
Event Team HGK: Stefanie Rohrer, Françoise Payot
Casting: Graduates 23, Fiona Rahn
Booking: Graduates 23, Fiona Rahn
Lead Backstage: Désirée Müller
Backstage Team: Graduates 23
Choreography Assistant: Harumi Mumenthaler
Hair & Make-up Team: Lara Campanini, Yolanda Da Silva, (Drew) Andrew Alisha Krummenacher, Giulia Monfregola, Alessia Werder
Awareness: Graduates 23, Dagmar Venohr
__
Video Direction: Kim Surenthiran
Head of Camera: Christoph Evers
Live Act Photography: Azura Silberschmidt, Nick Soland
Backstage Photography: Mark Siumin
Graphic Design and Signage System: Johnny Graf, Mirco Joao-Pedro
Animation: Dimitri Andri Erhard
Coordination Graphic Design: Andrea Sommer
Portrait Photography Graduates of 23: Flavio Leone
Coordination Communication: Danielle Harris, Werner Hoppe, Rhea Kyvelos
Coordination Guest-Management:: Ghislain Clerc, Danielle Harris
Ticketing Desk: Jacqueline Brechbühl, Evelyne Roth, François Schaffter
Atelier/ Textile Matters: Jacqueline Brechbühl, Carolina De Giacinto, Eve Ott, Iva Wili,
Back Office: Fréderique Janthur Custers
Catering SV Group: Bea Sinz Osswald, Mai Trien Troung, Thi Hong, Kevin Wirwich, Yamina Bouzater, Sarah Sutter
Facility Management: Enver Pajaziti, Thomas Fröhlich, Christoph Krimbacher, Sascha Ghilardi
Workshop HGK: Ben Kossmann, Markus Aerni, Mauro Tammaro, Christoph von Arx, Kurt Küng, Haimo Ganz
Security: Daru Wache
First Aid: Daru Wache
Special Thanks to Theater Basel for generously supplying the pillows
Thanks for the Sponsoring:
GLP German Light Products
Zeller Media
Visuals Switzerland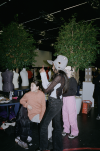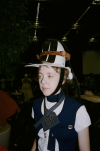 THANKS TO ALL MODELS AND PERFORMERS:
Aino, Alexia, Alice, Aliuée, Anaja, Andri, Anina, Anne, Aurélie, Ayshat, Bada, Billie, Carmen, Caroline, Claudia, Daniel, Diara, Hannah, Janna, Jenny, Jose, Josephine, Karin, Kayrah, Kevin, Kristina, Lisa, Lorena, Maria, Marta, Mathias, Mathilde, Max, Milena, Naima, Nevia, Parvin, Romeo, Sagil, Samuel, Sarah, Semaya, Serena , Vanessa, Vincent, Vy Linh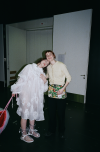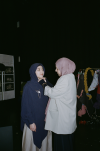 THANKS TO ALL THE HELPING HANDS FROM WITHIN THE STUDY PROGRAMM:
Ackermann Isabel, Apothéloz Franca, Berger Vanessa, Bianchi Blanca, Biert Marta, Breakspeare Kai Lea, Brook Finn, Bucheli Kristina, Bucher Enrico, Christen Shawna, Chyrka Katie, Collenberg Jael, Cuenot Aurélie, Dahl Cilia, Dimcic Damara, Eggli Anna, Engelhardt Greta, Farmer Jennifer, Filkorn Annika, Garcia de Oteyza Arends Till, Gaxotte Mardane, Gfeller Julien, Ghoul Naima, Glanzmann Andrea, Greter Angela, Guo Michaela, Hälg Anne, Haring Mitja, Hartmann Nicolas, Henkel Noëmi, Heuser Aline, Hughes Eileen, Huwyler Dano, Junz Vera, Kroha Katharina, Krusche Liv, Künzi Bada, Künzi Lina, Later Luisa, Leiggener Anaja, Lienhard Cölestina, Lienhard Jane, Lüscher Josefa, Lüthi Sarah, Lushima Alice, Madrigal Cartin Billie, Martin Barla Camila, Maywald Hannah, Md. Amin Sagil, Metzeler Maxime, Moser Malou, Nick Laura, Notter Noemi, Oderbolz Fabian, Preisig Linda, Preisig Maximilian, Reisch Nicola, Rohrer Yadira, Schneider Milena, Schoch Júlia, Schulthess Lorena Ursula, Schwendemann Alec, Scioli Leandro, Shymanska Sofiia, Sommer Patric Mustofa Orlando, Spiess Aino, Spira Jérôme, Staub Romeo, Steer Vladimir, Steinmetz Noemi, Timoteo Rayda, Topal Merve, Trujillo Nicolas, Wehrli Sasha, Wennekes Merel, Wigger Bastian and Zeni Piero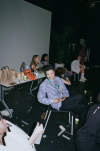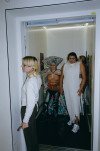 Backstage images: Mark Siumin
Show moods: Azura Silberschmidt, Nuccio Mastrogiacomo